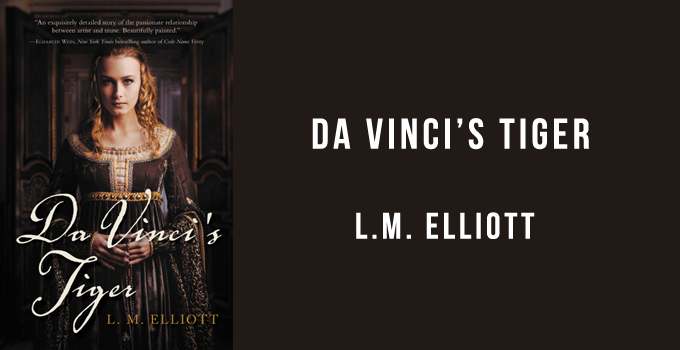 [note note_color="#D9BBAC" text_color="#ffffff"]Da Vinci's Tiger by L.M. Elliott • November 10, 2015 • Katherine Tegen Books (HarperCollins)
Website | Twitter | Goodreads | Amazon | Barnes & Noble |  The Book Depository | Indigo
Young, beautiful, and witty, Ginevra de' Benci longs to take part in the artistic ferment of Renaissance Florence. But as the daughter of a wealthy family in a society dictated by men, she is trapped in an arranged marriage, expected to limit her creativity to domestic duties. Her poetry reveals her deepest feelings, and she aches to share her work, to meet painters and sculptors mentored by the famed Lorenzo de Medici, and to find love.
When the charismatic Venetian ambassador, Bernardo Bembo, arrives in Florence, he introduces Ginevra to a dazzling circle of patrons, artists, and philosophers—a world of thought and conversation she has yearned for. She is instantly attracted to the handsome newcomer, who admires her mind as well as her beauty. Yet Ginevra remains conflicted about his attentions. Choosing her as his Platonic muse, Bembo commissions a portrait by a young Leonardo da Vinci. Posing for the brilliant painter inspires an intimate connection between them—one Ginevra can only begin to understand. In a rich and enthralling world of exquisite art, elaborate feasts, and exhilarating jousts, she faces many temptations to discover her voice, artistic companionship, and a love that defies categorization. In the end, she and Leonardo are caught up in a dangerous and deadly battle between powerful families.[/note]
[note note_color="#BFD1D1″ text_color="#ffffff"]I received this book for free from HarperCollins for review consideration. This does not affect my opinion of the book or the content of my review.[/note]
Remaining line of Ginevra's painting: I beg your pardon, I am a mountain tiger.
What inspired Da Vinci's Tiger: The painting of Ginevra de' Benci by Leonardo da Vinci. This painting was Leonardo's first portrait, and it was the first Italian portrait to have a women facing forward.
What is Da Vinci's Tiger about: A fictional recreation of how Ginevra de' Benci painting came to be! With the arrival of Bernardo Bembo, a Venetian ambassador, Ginevra's life drastically changes. Gone are the days where she's used as a pawn for somebody else's agenda. She gets to carve out who she is when she finds herself in the company of the powerful Medici family, and attracts the attention of the Ambassador as well as rising Italian Renaissance painters like Leonardo da Vinci and Andrea del Verrocchio. Bembo commissions a portrait of Ginevra from Leonardo, and this book shows how it happens. This is Ginevra de' Benci's time to shine!