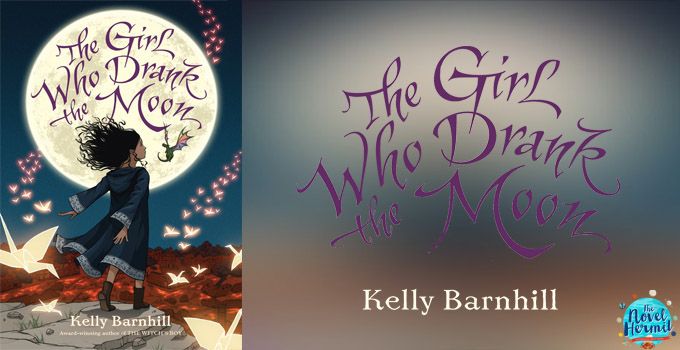 [note note_color="#60255b" text_color="#ffffff"]The Girl Who Drank The Moon by Kelly Barnhill • August 9, 2016 • Algonquin Young Readers
Website | Twitter | Goodreads | Amazon | Barnes & Noble | The Book Depository | Indigo | Library
Every year, the people of the Protectorate leave a baby as an offering to the witch who lives in the forest. They hope this sacrifice will keep her from terrorizing their town. But the witch in the Forest, Xan, is kind. She shares her home with a wise Swamp Monster and a Perfectly Tiny Dragon. Xan rescues the children and delivers them to welcoming families on the other side of the forest, nourishing the babies with starlight on the journey.
One year, Xan accidentally feeds a baby moonlight instead of starlight, filling the ordinary child with extraordinary magic. Xan decides she must raise this girl, whom she calls Luna, as her own. As Luna's thirteenth birthday approaches, her magic begins to emerge–with dangerous consequences. Meanwhile, a young man from the Protectorate is determined to free his people by killing the witch. Deadly birds with uncertain intentions flock nearby. A volcano, quiet for centuries, rumbles just beneath the earth's surface. And the woman with the Tiger's heart is on the prowl . . .[/note]
[note note_color="#BFD1D1″ text_color="#ffffff"]I received this book for free from Algonquin Young Readers for review consideration. This does not affect my opinion of the book or the content of my review.[/note]
First sentence: "Yes. There is a witch in the woods. There has always been a witch."
My heart is filled with so much love for The Girl Who Drank the Moon!
SO. MUCH. LOVE.
In the Protectorate, there's a yearly tradition where the people leave a baby as an offering to the witch who lives in the forest. Nobody questions why; they do it out of fear of this evil witch who is said to do horrible things to them if they don't. However, this witch in the forest named Xan is nobody to be feared; she is a sweet old woman who actually does a lot of good, delivering the babies to a loving home when she finds them. Xan's life changes when she accidentally feeds an abandoned baby moonlight and decides to raise the enmagicked child, Luna, with a Swamp Monster and a tiny dragon. Not only do Xan's life changes with this baby, but also the lives of the people who live in the Protectorate, where a young man there can no longer stand the threat of the witch and heads into the forest to kill the Witch.