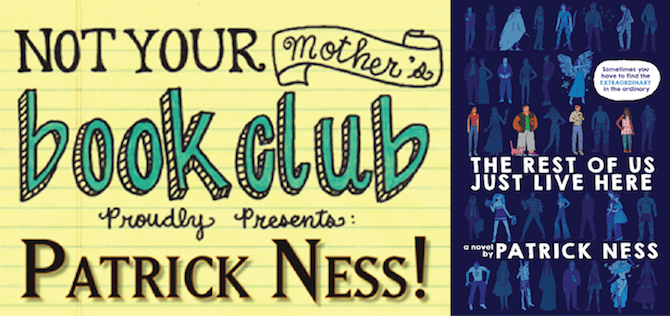 Not Your Mother's Book Club™ proudly presents Carnegie Medal-winning novelist Patrick Ness, in celebration of his new novel The Rest of Us Just Live Here! A bold and irreverent novel, it powerfully reminds us that there are many different types of remarkable.
You know who you must see in person if you get a chance? Patrick Ness. He is a gem, and you don't want to miss out on a wonderful gem.
The last time Patrick Ness was in the San Francisco Bay Area for his book tour (I know he was here during ALA) was in January 2013, and I, unfortunately, had to miss it because 1. I hadn't known about the event until day of and 2. I had sprained my ankle and I couldn't exactly hobble around for fear of worsening it. Suffice to say, I was absolutely dyinnnnnng to meet Patrick Ness.
I did meet him when I was at ALA, but I never got the opportunity to unload all my More Than This ~feels onto him. I needed to tell him how much that book wrecked me and how much it meant to me.