[note note_color="#ddebdb" text_color="#4f4c53″]Gertie's Leap to Greatness by Kate Beasley • October 4, 2016 • Farrar, Straus and Giroux (BYR)
Website | Twitter | Goodreads | Amazon | Barnes & Noble | The Book Depository | Indigo | Library
Gertie Reece Foy is 100% Not-From-Concentrate awesome. She has a daddy who works on an oil rig, a great-aunt who always finds the lowest prices at the Piggly Wiggly, and two loyal best friends. So when her absent mother decides to move away from their small town, Gertie sets out on her greatest mission yet: becoming the best fifth grader in the universe to show her mother exactly what she'll be leaving behind. There's just one problem: Seat-stealing new girl Mary Sue Spivey wants to be the best fifth grader, too. And there is simply not enough room at the top for the two of them.
From debut author Kate Beasley, and with illustrations by Caldecott Honor artist Jillian Tamaki, comes a classic tale of hope and homecoming that will empty your heart, then fill it back up again–one laugh at a time.[/note]
[note note_color="#BFD1D1″ text_color="#ffffff"]I received this book for free from Macmillan for review consideration. This does not affect my opinion of the book or the content of my review.[/note]
First sentence: "The bullfrog was only half dead, which was perfect."
Gertie Reece Foy is on a mission. It's a two step process: One, she's going to become the best fifth grade in the world (by giving the best summer speech of her entire class). Two, she's gonna show her absent mother, who is planning to move away from their small town, that she, Gertie, does not need her. For Gertie, everything will look up once her mission is complete, but an obstacle in the form of the seat-stealing new girl Mary Sue Spivey threatens her mission. This new girl cannot sabotage Gertie. Absolutely not. If Gertie has to postpone her mission and sort out her competition, she'll do it, but at what cost?
Why Everybody Should Read
Gertie's Leap to Greatness
You'll root for Gertie to be the best.
Haven't you always been that kid who just wanted to be the best? And then some other person swoops in and takes what you desperately want? That's Gertie. She had everything planned out to complete her mission, but the new girl comes in and disrupts everything. Gertie is persistent though; she knows what she wants. She won't stop until she gets what she wants to the point it blinds her—like it getting in the way of friendships. She does envy the attention that the new girl gets (it should be rightfully hers because she's supposed to be the best fifth grader in the world!). You gotta applaud how resilient she is. She is a kid trying to cope with her absent mother's permanent departure in the way she knows how, and she needs to stop the new girl from ruining her mission.
The voice fits that of a fifth grader.
When you read Gertie's Leap to Greatness, it really feels like you're reading from a fifth grader's point of view. Kate Beasley captured a fifth grader's voice and thoughts beautifully. It's everything I felt and thought at that age.
It deals with how kids change their loyalties and their interest frequently.
Kids can be fickle. That's what Gertie learns. Gertie's classmates become captivated with the Mary Sue, the new girl; all they want to know is about her family's Hollywood connection and Jessica Walsh, a famous movie actress working for Mary Sue's director father. They no longer think Gertie's best friend Jean is a genius. They turn against Gertie in favor of Mary Sue, which Gertie doesn't think is fair. But their moods change, and when something exciting happens to Gertie, they forget their previous loyalties and interest and focus on the new interesting thing. It's not a bad thing though. It's what every reader will experience themselves.
Gertie has a strong group of people who support her no matter what.
Even when Gertie gets into a bit of trouble, she always has her family and friends to back her up. There's her dad, an oil rig work, who's usually away on jobs but when he's home he can always be counted on; her Aunt Rae, who always tells Gertie to "give 'em hell, baby"; Junior, her best friend, who's a softie and tries to support Gertie as much as he can even if it scares him; and Audrey, the kindergartner Aunt Rae babysits who loves to watch The Waltons and bothers Gertie to play. It's a group Gertie needs in her life; they keep her grounded. When she feels down, they're the ones who can lift her spirits and set her right.
Jillian Tamaki illustrates some scenes!
Feast your eyes on this illustration.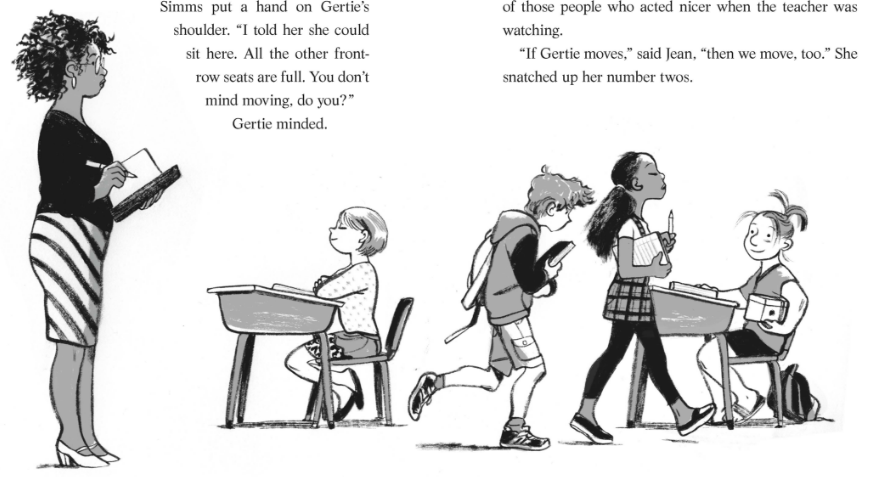 Isn't that pretty? There's plenty more throughout the story!
You want to be the greatest.
If you want to be the greatest like Gertie, you should pick up Gertie's Leap to Greatness.
Should you read Gertie's Leap to Greatness? Yes! This sweet Middle Grade book has a fifth grader who just wants to be the best fifth grader in the world and show her absent mother that she's okay without her; classmate rivalry with the new girl; feelings of alienation; gorgeous art from the talented Jillian Tamaki; lovely prose that fits the voice of a fifth grader; and much more. Every reader will be able to relate to this.