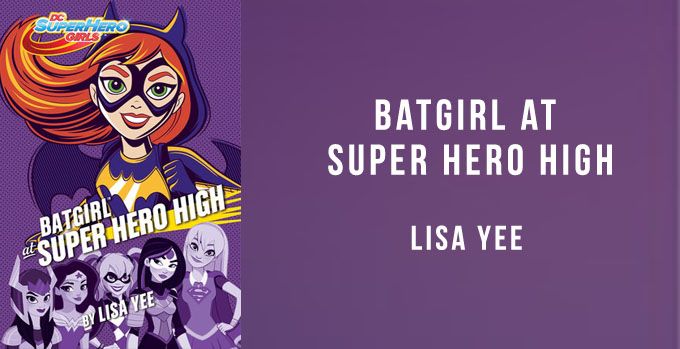 [note note_color="#6d4978″ text_color="#ffffff"]Batgirl at Super Hero High by Lisa Yee • January 3, 2017 • Random House Books for Young Readers
Website | Twitter | Goodreads | Amazon | Barnes & Noble | The Book Depository | Indigo | Library
Get your cape on with the DC Super Hero Girls™— the unprecedented new Super Hero universe especially for girls! Readers of all ages can fly high with the all-new adventures of Wonder Woman™, Supergirl™, Batgirl™, and some of the world's most iconic female super heroes as high schoolers!
Batgirl has always hidden in the shadows—but does she have what it takes to stand in the spotlight at Super Hero High?
Barbara Gordon has always been an off-the-charts, just-forget-about-the-test super-genius and tech whiz, and then she gets the offer of a lifetime when Supergirl recognizes that Barbara's talents make her an ideal candidate for Super Hero High. Donning the cape and cowl, Barbara Gordon becomes Batgirl, ready to train at the most elite school on the planet, next to some of the most powerful teenagers in the galaxy. She's always had the heart of a hero . . . but now she'll have to prove that she can be one. Good thing she loves a challenge![/note]
Did I screech in excitement when I heard Batgirl was getting her own Super Hero High book? You bet I did. Did I refrain from scaring the Random House publicist when she asked if I want to take part in the Batgirl at Super Hero High blog tour? Yup.
[note note_color="#BFD1D1″ text_color="#ffffff"]I received this book for free from Random House for review consideration. This does not affect my opinion of the book or the content of my review.[/note]
First sentence: "Oh, sure, there were injuries."
Na na na na na na na na Batgirl! Batgirl!
In this third book in the Super Hero High series, Batgirl has decided that she doesn't want to sit on the sidelines anymore while her friends are out there saving people. She wants to attend Super Hero High, but her dad, Commissioner Gordon, absolutely refuses to allow her. With her superior reasoning skills, she manages to convince her reluctant dad to let her attend the school (but with a few set of rules she must abide by). In Batgirl at Super Hero High, Batgirl has to deal with her desire to save people like her dad, a worried dad who doesn't want Batgirl to get hurt, stress from all the different work loads she's juggling, a reality show about technologically savvy people, and much more!
Why Everyone Should Read
Batgirl at Super Hero High
Batgirl is everything! You cannot go wrong with any titles about her. She's Batgirl, and she is wonderful!
Batgirl wants to be like her dad—saving people.
Barbara Gordon wants to be part of the action. She wants to be in the forefront, and not behind the scenes anymore. She wants to save the world like her dad does every day as the Commissioner. With her wit and logic, she convinces her stubborn dad to let her go to Super Hero High, but not without a set of rules that Batgirl has to follow. She's gonna save people! She's gonna make her dad proud (even if he had initially disapproved)! It's all Batgirl ever wants to do.
It heavily features a parent, Commissioner Gordon, unlike the previous Super Hero High books.
In the previous Super Hero High books, the parents of the superheroes did not have a heavy presence in the book, but in Batgirl's book, Commissioner Gordon does. While Wonder Woman and Supergirl's parents/guardians were supportive of them to go to Super Hero High, Commissioner Gordon isn't. He isn't supportive, not because he thinks his daughter cannot handle it; he's worried for her. She's everything to him, and he doesn't want her to get hurt. Most kids will have parents that are like Commissioner Gordon.
Everybody gets stressed out, and Batgirl is no different. As a new student at Super Hero High, she has to juggle being a student, a tech wiz, and a contestant on a reality show about technologically savvy people. She tries to keep up the best she can, but she gets overwhelmed by her workload and the expectation to do well. She can't do it all without having help. 
Should you read Batgirl at Super Hero High? Yes! Batgirl is the best! Like all the Super Hero High books, readers will be able to relate to everything that Batgirl has to deal with—especially a reluctant father who worries a lot, stress of juggling different workloads, and many more awesomeness. It's things that all types of people—young and old—will deal with; it's wonderful!