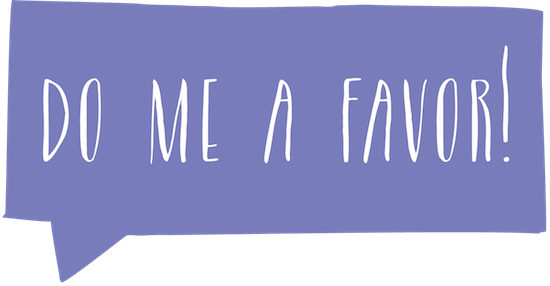 Do Me A Favor! is a new and sporadic feature where I ask, you, my dear friends and followers for recommendations of books, TV shows, Tumblrs, places, and just about anything I should check out.
I've been thinking a lot about about revamping my current book cover series. So far, the only thing I've been doing is discuss cover changes. I will continue to keep it up because I love hearing what everybody likes or doesn't like about the cover, but I want more. I'm planning to expand my book cover feature to showcase five or six book covers with a theme much like the lovely Georgie at What She Reads's Holy, Mother Cover (which is the best book cover feature name ever!) and Stacked. I love seeing how book covers with the same theme look so different from each other.
The thing is I need help.
1. I need a better and unique name than Judg(ing) A Book By Its Cover because it's cliche and overdone. I would prefer something unique and clever like Georgie's Holy, Mother Cover. I've been racking my brain for a good one, but I can only come up with cliche and cheesy names. I can't have that! If you have name suggestions for my book cover feature, feel free to tell me. I just need ideas to get my brain going. And of course, I will shower you with all the love you deserve in the world!
2. What would you like to see in the revamped cover series? More cover change discussions? Showcasing covers from a theme? What else?
If you want to participate in asking for recommendations, you can submit your question here and I will make a post for you. Hopefully, this feature will be helpful.
(btw, don't worry about the banner for this feature. I know it's bland and plain. I will change it as soon as I design something awesome OR if you can help me design one, I will be forever grateful to you.)