Welcome to the New Year!
Can you believe we're already a month into 2016? Didn't 2015 just end?
January was one of those weird months I was hoping for awesome new things to occur, but the middle of the month was plagued with lots of tragedies that got me down. It made me want to hide away from the world, but it soon got better.
So far in January—
Sign-up for the 2016 Love-A-Thon is opened! You will definitely want to participate in this awesome love fest. It's one of my favorite events ever! Who'd say no to spreading love and joy to others? Sign up now!
I spent my New Years with my BFF for the first time in forever.

 It's been ages since we've spent New Years together, and I felt so blessed and excited she was around. On New Years Eve, we drank and karaoked the night away. Before she left, we had delicious brunch and all the awesome. I miss her so much!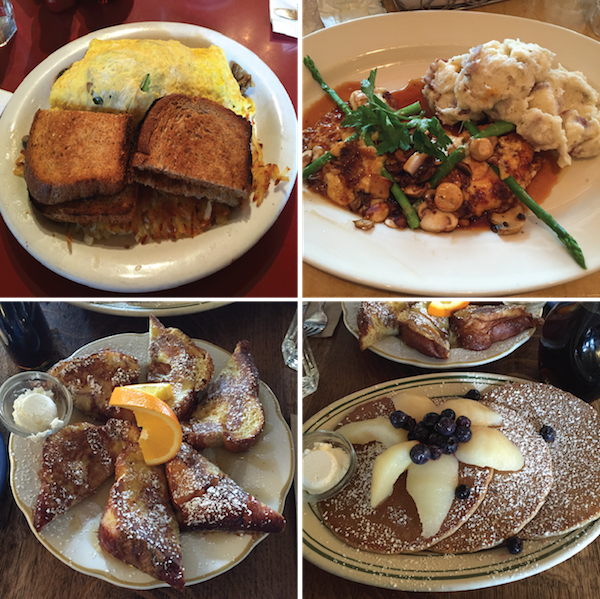 (Food we ate while she was visiting for the Holidays. Clockwise: 1. Avocado + mushroom omelette with hash browns and two pieces of toast; 2. Chicken Madeira with asparagus, mushrooms, and a side of delicious mash potatoes; 3. Brioche Pain Perdu: three slices of cinnamon brioche soaked in orange-water batter + sprinkled with lavender honey; 4. lemon gingerbread pancakes and poached pears. Not pictured that was eaten: carne asada tacos + horchata, and others I can't remember.)

The week of January 10-16 was the worst weeks ever. It was plagued with deaths of beloved entertainers—David Bowie and Alan Rickman—and car accidents. Utterly depressing. Both 69, and passed away from cancer. It sucks. Just thinking about it right now has totally sadden me. They were really inspiring people, and the world isn't the same without those two in the world. Car accidents occurred near my house, coincidentally on the day Alan Rickman passed away. A van was on fire after a car ran into it, which was totally fucking crazy, and in the wee hours of the 15th, a drunk driver drove into a gate on the corner of my street. It was one of those ridiculously bad days. It feels surreal it happened in one day.
I finally saw Star Wars, and it was frickin' amazing! I waited a month after it came out because I'm not a fan of watching with a crowd of people. I came into the movie knowing a couple of things the internet spoiled for me, but I tried to ignore those spoilers. I loved it! So many funny moments that involved Finn (John Boyega was such a joy to watch). The Millennium Falcon! Poe Dameron! (Oscar Isaac is such a babe!) I love Poe and BB-8's friendship. (So cute when BB-8 ran immediately to Poe when she saw him.) Rey being a total badass. The Stormtroopers. (And noneee for Kylo Ren because I don't really care about his story line.)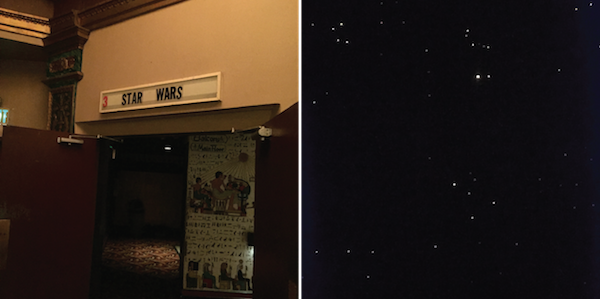 (The right picture is of the ceiling of the theater. How perfect for Star Wars!)
The next day, I immediately went to Target to grab myself a Star Wars t-shirt, and guys, it is such a beautiful shirt of the Millennium Falcon! :D
I got my ticket to see Brand New in July! I'M SO EXCITED. Teenage-Cee is screamingat the top of her lungs and jumping somewhere. Brand New is one my absolutely favoriteeeeee bands since I was a teenager, and I get to see them! (Nine years ago, my sister and I went to go see them at a not-so secret April 1st event, but we failed to get inside the venue because it was over capacity. I was so sad and disappointed.) IT'S HAPPENING.
BOUGHT + GIFTED
FOR REVIEW
Thank you for the books, Sourcebooks Fire, Random House Kids, First Second, & HarperCollins!
REVIEWS
DISCUSSIONS
TYPOGRAPHY
NOTE TO SELF FOR NEXT MONTH
Read, read, read. Write, write, write. Comics, comics, comics. 
As usual. The next two months are gonna a busy month full of books. Let's hope I get to all of it?
How was your January? Was it a great month for you? Anything you're looking forward to in the New Year like books or events?