Dear Santa, 
You didn't think I'd forget to make my wishlist, did you? I could never forget! It's always the most exciting and painful thing to put together my wishlist. Here are a list of things I am hoping will be under my Christmas tree. Everything here is something I desperate want because a. they're cute, b. it'll complete my book collection, c. it's insanely gorgeous, or d. the author or book is a fave. I'm pretty sure I'm missing a lot (like clothing and stuff), but these are off the top of my head.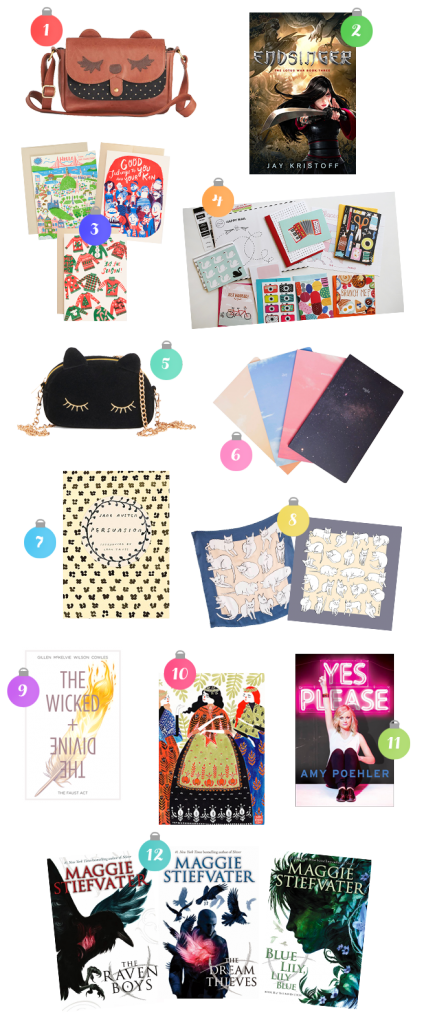 1. Pick of the Critter Bag | 2. Endsinger by Jay Kristoff | 3. Hello Lucky Letterpress Cards | 4. Happy Mail stationery subscription | 5. Lovely and Lush Bag | 6. One Day Notebooks  | 7. Persuasion (Vintage Classics) by Jane Austen | 8. Picasso Cats Silk Scarf | 9. The Wicked + The Divine Volume 1 comic  | 10. Three Ladies art print | 11. Yes Please by Amy Poehler | 12. The Raven Cycle books by Maggie Stiefvater | 13. The Shadow of the Wind (Penguin Drop Caps) by Carlos Ruiz Zafon (Not pictured)
What about you? What's on your wishlist?