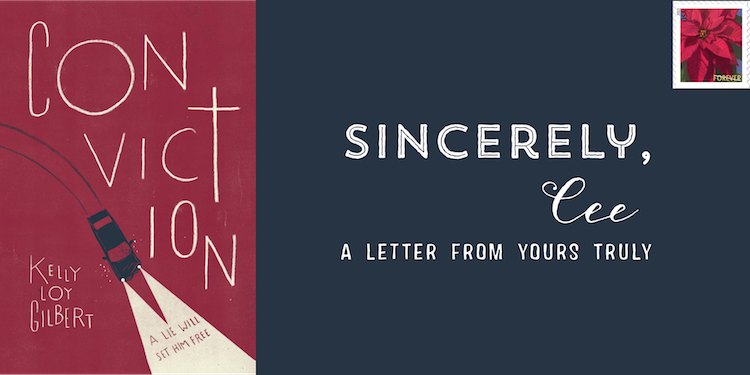 Dear Kelly Loy Gilbert and Conviction,
Oh boy, oh boy. Fractured family + a murder trial + baseball? Are you kidding me? Total Cee book!
[quote cite="Goodreads" url="https://www.goodreads.com/book/show/23197519-conviction"]Ten years ago, God gave Braden a sign, a promise that his family wouldn't fall apart the way he feared.
But Braden got it wrong: his older brother, Trey, has been estranged from the family for almost as long, and his father, the only parent Braden has ever known, has been accused of murder. The arrest of Braden's father, a well-known Christian radio host has sparked national media attention. His lies in his son's hands; Braden is the key witness in his father's upcoming trial.
Braden has always measured himself through baseball. He is the star pitcher in his small town of Ornette, and his ninety-four mile per hour pitch already has minor league scouts buzzing in his junior year. Now the rules of the sport that has always been Braden's saving grace are blurred in ways he never realized, and the prospect of playing against Alex Reyes, the nephew of the police officer his father is accused of killing, is haunting his every pitch.
Braden faces an impossible choice, one that will define him for the rest of his life, in this brutally honest debut novel about family, faith, and the ultimate test of conviction.[/quote]
Let me tell you why I need this book:
Baseball! It's the single thing that seems to provide an escape for Braden, so I'm so interested to see how baseball is woven into the story. I keep hearing about how it's used as a metaphor, and I bet it's a device that helps, us as readers, understand Braden's situation and his feelings. I am totally here for that!

Male protagonist! YES. MORE. MORE. MORE. I don't read too much YA books with a male protagonist, so I always jump in joy when I read one that has a plot I like. I just want to know more about Braden.

Murder trial! Did someone say murder? At the center of this book, there is a murder that Braden's father may or may not have committed, and Braden is a key witness. Oh crap! That sounds so juicy! I have all sorts of questions about it (like what evidence points to Braden's father and why). I'm just wayyyy to excited to see how it unfolds because I'm sure there's more than meets the eye.

Religion! I rarely read books that have a semblance of religion in it, but in this, I'm just fascinated to see how religion is treated since it's a huge part of his family's life. I wonder about Braden's relationship with it and whether his faith has changed because of his and his father's situation.
Family relationship! You have an estranged older brother and a father who's accused of murder? And the father's life is essentially in his son's hands? Eeeek. That is all sorts of complicated! Braden has the power to further break his family apart, and I am so ready to see what happens. I love reading about fractured family because of the different dynamics that are portrayed. It makes me curious to see how one works or doesn't, and what it'll take to cement this family back together.
I hope this book knocks itself out of the ballpark. ;) So, have you added this book to your TBR list?
Sincerely,