Inspired by What She Reads, Pure Imagination Blog, and Stacked.

I admit I'm a book cover snob. Who isn't though?

Book covers are the first thing that attracts readers to a book. A good cover can draw someone is, just as a bad cover can easily draw someone away. It can essentially make or break a book. Holy, Mother Cover! is where I showcase the book covers that stand out (or make me cringe), and discuss cover changes.

(A big special thanks to Georgie at What She Reads for bestowing me this fabulous name and to Charlotte at The Simple Tales for creating the beautiful feature banner you see before you.)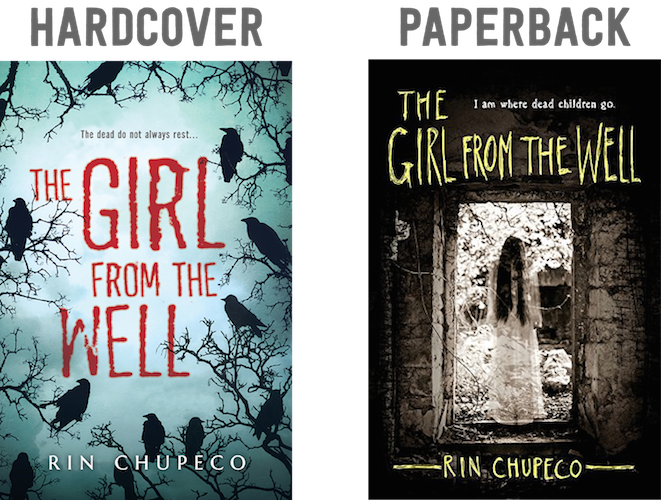 What do I think about the cover design?
 Very ominous.
There's something very foreboding about the crows just perched on the branches of the hardcover of The Girl From the Well, and I love it. The crows tell a lot about what readers will find in the book. The crows are just sitting there and waiting—waiting for something bad to happen. You know what they say, crows are the harbingers of death, so you know something bad will happen. I love the unknown factor.
Would I buy this book based on the cover? Yes.
What do I think about the cover design?
 Scary!
Whereas the hardcover took on an ominous bird motif, the paperback goes for the creepy girl image. What a difference! This cover clearly tells people that this is a horror book. I'm not a fan of this paperback cover because it creeps me out (which is doing its job), and looks a lot like the covers of the Asylum series by Madeleine Roux. At first glance, I would think they're from the same series even though they're not.
Would I buy this book based on the cover? No. 
Final Verdict: Hardcover! I love the crows, and I don't want a creepy girl staring at me. 
Which cover design do you prefer? Would you buy the hardcover or paperback cover?