Inspired by What She Reads, Pure Imagination Blog, and Stacked.

I admit I'm a book cover snob. Who isn't though?

Book covers are the first thing that attracts readers to a book. A good cover can draw someone is, just as a bad cover can easily draw someone away. It can essentially make or break a book. Holy, Mother Cover! is where I showcase the book covers that stand out (or make me cringe), and discuss cover changes.

(A big special thanks to Georgie at What She Reads for bestowing me this fabulous name and to Charlotte at The Simple Tales for creating the beautiful feature banner you see before you.)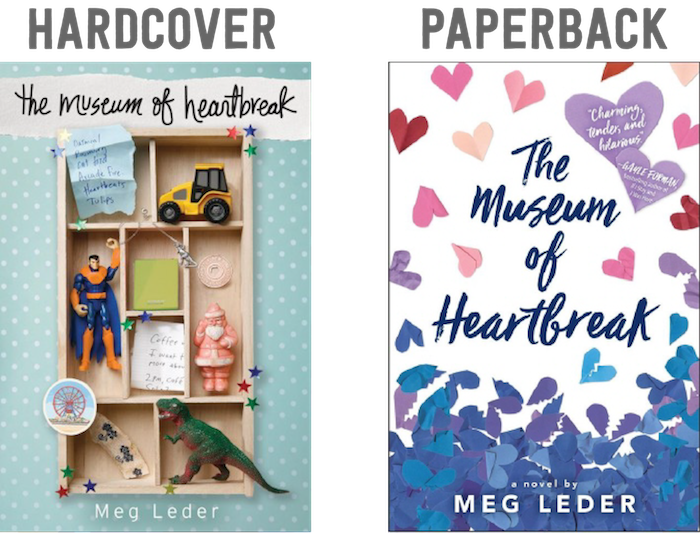 I love that the hardcover design looks like things you'd put in a museum—at least it's what you'd put in your box of memories. These are the things that I imagine would be put in Penelope Marx's personal museum—notes, action figures, dinosaurs… (Though I wonder if these items really does have any significance to the story. I hope so!) It's cute. Especially the light blue background with the polka dots.
Unfortunately, the paperback cover pales in comparison to the hardcover. How many covers with hearts on them are out there? Tons. I do like that the hearts are cut out from papers. It's cute, especially the ones with the jagged cuts, emphasizing the heartbreak. The colors are also lovely together. However, otherwise, totally forgettable cover.
Final Verdict: What cover do I like better? Hardcover.
Which cover design do you prefer? Would you buy the the hardcover or paperback cover?