BEST BOOK EVENT EVEERRRRRR!!
SERIOUSLY.
I had the best time. I was laughing through the entire event because Rainbow Rowell and David Levithan are funny and awesome together. They captivated the audience and it was an amazing sight. It was the perfect last event for the month (and probably for the rest of the year if I don't hear of future events in November and December). I got to the bookstore early and got a seat in the front, which was awesome because 1. I'm right in front of the authors and 2. rows two through four were reserved (so I would've sat in the back and that is not acceptable). I was a bit worried though because I didn't know if there was signing rules (like if there was a book signing limit and if we can take pictures with Rainbow and David), but I asked the bookstore staff (who were all amazing) and they told me no rules. Yeeeee.
The lovely Jennifer Laughran moderated the event.
READING
Rainbow Rowell started by reading the first page of Eleanor & Park because she realized she never read anything from that book in San Francisco, so boom, she read it. Then she and David read Fangirl and this is what happened –

(I didn't take this video.)
Everybody was dying of laughter when Rainbow and David read Fangirl. As you can see, David was fucking hilarious when he read Levi's part (ie. twirling his hair and his tone when he asked Cath for "dirty secret fanfiction"). He had it down! After the reading of Fangirl, David read the first few pages of Two Boys Kissing. Then, he and Rainbow read the scene with Neil and Peter in the bookstore. It was really adorable scene. I was "aww"-ing all over the place. You should definitely read this book.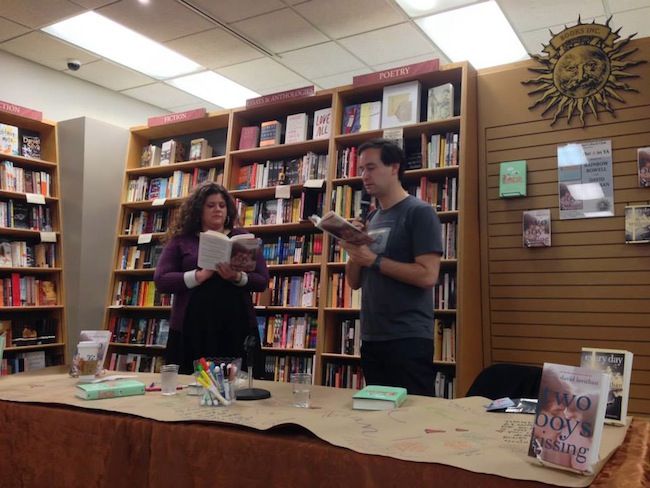 (Source: NYMBC Facebook Page)
 Q & A
QUESTION | What happened with the Eleanor & Park ban? And have David ever had one of his books banned?
Rainbow Rowell (RR): What happened was – A father of one of the kids that read the book was put off by the swearing and thought certain scenes were extremely passionate (the hand holding perhaps?). What upset her was that they didn't just cancel the event at the school, but at the public library too! And that the parents wanted the librarians punished.
David Levithan (DL): When his books are banned, the people who ban it are really attacking who David is. Yes, it's very hard for the authors when their book is banned, but it is so much worst for the people – who live in the community, who are defending the book, and who are in the line of fire (like the librarians). They have to live in that town. He talked about how insidious preemptive censorship is because people will never get the chance to read the book because it isn't in the library in the first place. He made a conscious decision to name it Two Boys Kissing and have the cover reflect that because he "wants people to go to the bookstore, see it, and know that it's there for them."
QUESTION | Is there anything readers can do? Do letters help?
DL: Sending support to the people who advocates for the book, but don't spam the opponents into giving up because that doesn't work or visit their sites. He says that what doesn't work is when people (who don't live in the community) attack the people who are challenging it. That doesn't help the community. A book challenge is essentially a community issue.
QUESTION | David's book has a Greek Chorus from the 1980's. Rainbow has two books set in the 80's and 90's. Newbie writers are told not to sent their books in the 1980s. Did you have any push back for setting your book in that time period? Was that any concern to you?
RR: For Attachments, she did get pushback from an agent about setting the book in the 90s because it wasn't far back in history to be relevant for people to care. For Eleanor & Park, nobody really questioned her because she was done with the book before she got an editor for it. The hard part was selling it.
DL: The Greek Chorus wasn't going to make 80's references because they're in the present looking down. They're not reminiscing of the past. He didn't think he could've written Two Boys Kissing as his first book. He needed that 10 years between his other books to get to it.
QUESTION | To David, is it harder or easier to collaborate? How does it work? To Rainbow, would you collaborate with anyone? 
DL: He says that it's more fun to write with somebody else because he got to write something he would never usually write about (paranormal in Invisibility). He loves that it's a team effort and it's a nice break from living inside his head. He had a two-hour session with Andrea Cremer, flushing out the rules of Invisibility.
RR: She loves working with people. (She worked in advertising with a creative partner for a while and loved that.) She's more proud of the things she created with other people than by herself because "they feel more magical." She'd want to collaborate with someone who's extremely different from her. She wants somebody who'd be good in the things she isn't.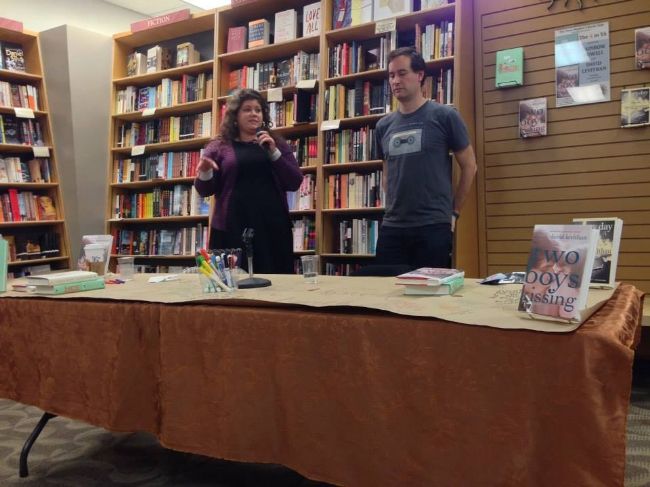 (Source: NYMBC Facebook Page)
QUESTION | If the Internet had been around when you were in high school, what would you have done?
RR: She would've done what Cath did in the book. She fell into fan fiction a few years ago (and hasn't stopped). Rainbow was very into Wham in high school and wrote Wham/X-Men crossover fic. (The Beast and Andrew Ridgeley were always trying to go out with her. LOLLL.) She's jealous of young people because they have this thing that would've changed her life.
DL: He's so glad he didn't have the Internet when he was in high school. In his words, he "would've fucked up so bad." If he had put his writing on to the Internet and got slammed or got no responses, he might've been discouraged and not become a writer. His writing was not ready to share then.
(There was a hilarious back and forth about George Michael that "although people might've thought Rainbow was aiming low for loving Andrew Ridgeley, she was actually aiming realistically." LOLLL.)
QUESTION | When you work as an editor at Scholastic, have you ever edit something that made you go "damn, I can make this better. Want to write with me?"
DL: No. He had been an editor for ten years before publishing his first book so the wall between author and editor is so high that he doesn't even think that. He approaches a book as its ideal reader, not a writer.
QUESTION | Are you a pantsers or a plotter? Do you have a writing routine?
RR: Not one or the other. She gets the story out all at once. She writes an essay when she has an idea. She comes up with the relationships first, not characters. Her plots happen between characters. Free-styling and improvising in the middle. She likes to write at night.
DL: A pantser. He has a sense of what he's doing but tries not to think about it. His favorite parts of his books are the parts that surprise him. He wants to try an outline. He writes when he can on the weekend and on vacation.
QUESTION | To Rainbow, can you talk about the possibility of a sequel for Eleanor & Park?
RR: She would want to write them as adults. (Like what happens to them when they're in their late twenties/early thirties.)
QUESTION | What's the differences between writing for an adult audience and a young adult audience? 
DL: No difference. When you're writing, you aren't sitting there thinking that you're writing for teenagers. What the books are about gears it toward a certain audience. Only about what section the book will sit under.
RR: The difference would be whether the book (let's say Eleanor & Park) is immersed in the teenager's life. It would be very different if it were about Eleanor in her 40s reflecting on her first love.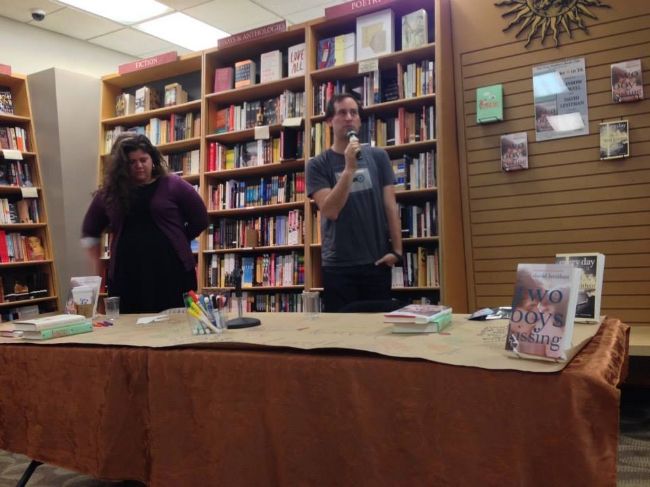 (Source: NYMBC Facebook Page)
QUESTION | To David, tell us about the evolution of Boy Meets Boy to Two Boys Kissing. 
DL: Boy Meets Boy was written to create reality. He finds it amazing that the things that occur in the book kind of comes true. It was meant to be a contrast between Paul's world and Tony's world. With Two Boys Kissing, he wanted to reflect on reality more.
QUESTION |  Do you ever find yourself locked into a perfectionist mentality while you're writing?
DL: His writing doesn't have to be perfect; it just has to be something he can work with. As an editor, he has been exposed so many rough first draft that has turned into extraordinary books. He would never hold anybody to that perfection standard. His best line of writing: "When you're writing, you don't have to make it good. You have to make it exist."
RR: She expected her books to sound like the books she loves. She didn't really think about how the books have gone through revisions and edits to reach that point. She had high expectations for herself. It doesn't have to be perfect.
QUESTION | If you could recommend a book or two, what would it be? 
RR: The Brides of Rollrock Island by Margo Lanagan and Tender Morsels by Margo Lanagan. (Fun fact: Rainbow has a hard time recalling book titles. During Leaky Con, she couldn't remember her favorite Neil Gaiman book and because of that, she looked like a poser. Lolll.)
DL: The Coldest Girl in Coldtown by Holly Black and The Infinite Moment of Us by Lauren Myracle. Always recommends Feed by M.T. Anderson and Blankets by Craig Thompson because those are his favorite.
SIGNING
Because there was a ton of people, the signing was by rows. So the first row got their books signed first, then the second row, and so on.
I had prepared these personalized envelopes + cards for Rainbow and David.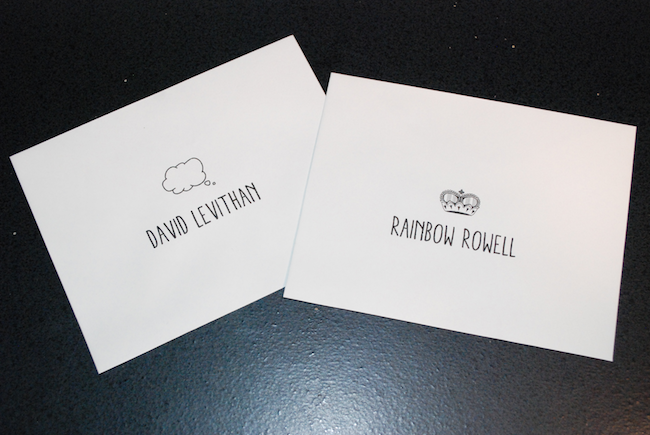 It took me foreveerrrr to figure out how to custom print stuff on my printer, but I did it! Isn't it beautiful? I hope they loved it.
When it was my turn to get my books signed by David Levithan, I actually didn't say anything to him after giving him the envelope/card because I was too flustered to say anything. I just stood there watching him sign my books. I felt kind of dumb for not saying anything. I was quite intimidated because he's such an awesome person who I admire. He's a writer AND editor (everything I wish to be!).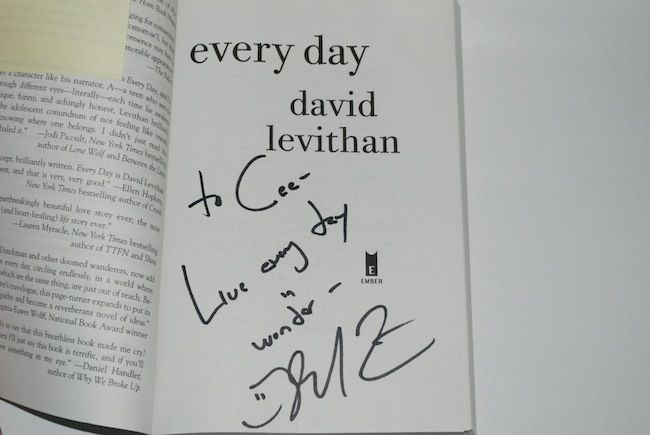 Then, I waited to get my books signed by Rainbow Rowell. I actually brought five books with me (two from Kelly, one from my BFF, the other two) and bought Fangirl at the bookstore. Rainbow was absolutely sweet and lovely. I told her that I loooveedd Attachments and that it became one of my favorite books. Rainbow was pretty thrilled that I read it.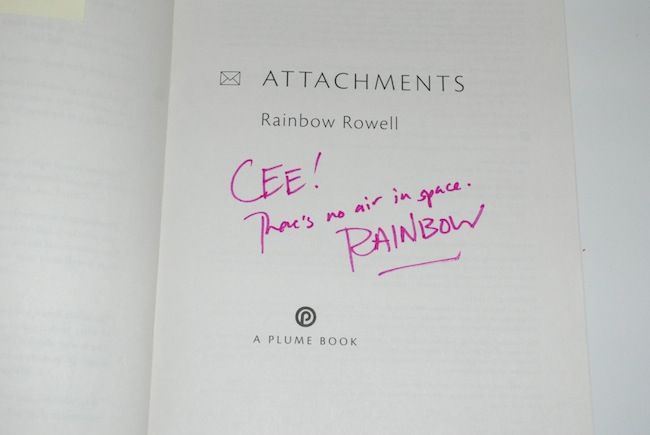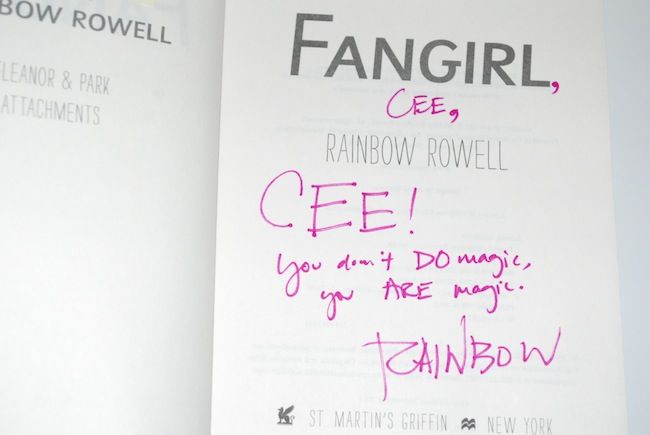 I think I got everything signed in five minutes since I was in the front row. I cannot stop saying that this was the best book event I've ever went to. If Rainbow Rowell or David Levithan (or both) stops nearby you, go to that event!
ALSO, I'm giving away a signed copy of Every Day by David Levithan! Whooo hooooo.
The rules:
This contest is only opened to the US. (Too broke to send it anywhere else.)
The giveaway will run from October 24 to November 11, 2013.
You must be 13 years (with your parent's permission) or older.
You will be disqualified if you pick up entries you haven't done.
If the winner does not respond to my e-mail within 48 hours, I will have to choose another winner.
I am not responsible for any items lost in the mail.