Whether you're a teen-lit addict or just a dabbler, you won't want to miss this! Mingle with nearly two dozen YA authors, participate in existential conversations, and get your trivia on. Prizes will be won, books will be signed, pictures will be taken, and fun will be had.
GUYS, TEENQUAKE WAS FUCKING AWESOME.
Authors, books, prizes, photo booth. THE BEST TIME EVER.
For those who do not know what I'm talking about, Teenquake is an event that's part of Litquake (a week long literary festival in October in San Francisco). A bunch of authors come and interact with readers. It's like any regular book event, but 10x more awesome.
I didn't go with anyone because my friends weren't able to make it due to previous obligations, which sucked. On the plus side, BART didn't strike! Yayyyy. I had a ride.
I was absolutely mortified by the thought of having to make conversations with people. You should know, I'm not a mingler. Making conversation is extremely difficult for me because what am I suppose to say?  I'm that quiet, awkward person who'd prefer to blend into the wallpaper or stay on the sidelines while everybody has fun. I spent close to 15 minutes off to the side, staring at the scavenger hunt paper that one of the lovely staff at Books Inc handed to me, as authors trickled into the area. I was watching, working up the courage to talk to people. However, I managed to talk to authors? (That's a surprise!) There was a scavenger hunt and I wanted to win prizes! (Yeah, winning the prizes was great, but talking to authors was awesomeeeeeee.) So it was a good incentive. ;D
[spoiler title="Here's the list of authors who were at the Teenquake Author Salon! " style="fancy"]
Sean Beaudoin
,
Wise Young Fool
.
seanbeaudoin.com
Lewis Buzbee
,
Bridge of Time
.
lewisbuzbee.com
Donna Cooner
,
Skinny
.
donnacooner.com
Max Doty
,
How to Be a Star
.
maxdoty.com
Kevin Emerson
,
The Dark Shore
.
kevinemerson.net
Michelle Gagnon
,
Don't Look Now
.
michellegagnon.com
Michael Grant
,
Eve & Adam
,
themichaelgrant.com
L. Tam Holland
,
The Counterfeit Family Tree of Vee Crawford-Wong
,
lindsaytamholland.com
Corrine Jackson
,
If I Lie
.
corrinejackson.com
Stacey Jay
,
Of Beast and Beauty
.
staceyjay.com
Stephanie Kuehn
,
Charm and Strange
.
stephaniekuehn.com
Katherine Longshore
,
Tarnish
.
katherinelongshore.com
Jason Myers
,
Run the Game. 
jasonmyersauthor.com
Jandy Nelson
,
The Sky is Everywhere. 
jandynelson.com
CJ Omololu
,
Intuition. 
cjomololu.com
Ingrid Paulson
,
Valkyrie Rising
.
ingridepaulson.com
Amy Reed
,
Over You
.
amyreedfiction.com
Veronica Rossi
,
Into the Still Blue
,
veronicarossi.com
Erica Lorraine Scheidt
,
Uses for Boys
.
ericalorraine.com
Corina Vacco
,
My Chemical Mountain
.
corinavacco.com
Kasie West
,
The Distance Between Us
.
kasiewest.com
Daisy Whitney
,
Starry Nights
.
daisywhitney.blogspot.com
Jill Wolfson
,
Furious.
 jillwolfson.com
[/spoiler]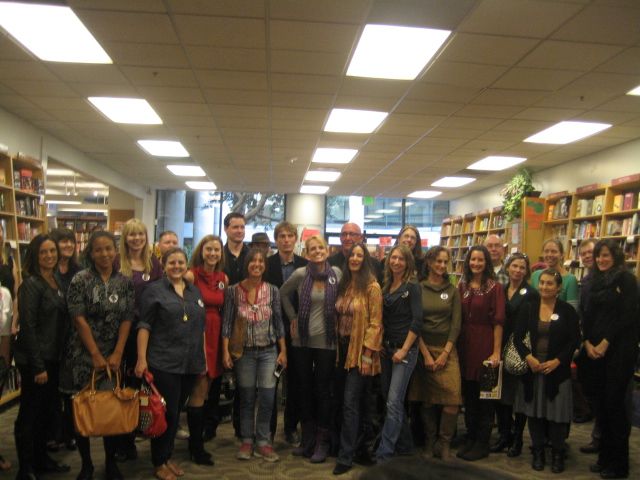 (This was the only picture I took that wasn't blurry. :P)
[spoiler title="Teenquake Author Salon Game Card/Scavenger Hunt" open="yes" style="fancy"]1. Which Amy Tan novel did Kasie West enjoy as a teenager? [
The Joy Luck Club
] 2. L. Tam Holland's work
In Between War
is about a Swedish character named ________________?
3. Name the two authors whose favorite teen read was
The Outsiders
by S.E. Hinton. [Jason Myers, Corina Vacco] 4.
Girl Jumps Into Painting
is the title of which author's 1st piece of writing? [Jandy Nelson] 5. Which Vonnegut title was Sean Beaudoin's fave as a teen? [
Cats Cradle
] 6. Who had his/her 1st piece of writing published in Fiction Magazine in '06? [Amy Reed] 7. It is a truth universally acknowledged that Elizabeth Bennett and Mr. Darcy's love story still remains a favorite of many today. Which author hearted this book as a teen (and still does today)? [Ingrid Paulson] 8. What is the title of Katherine's Longshore's 1st piece of written work? [
The Storm
] 9. Name the author who wrote "The Best Father in the World" for a contest. [Donna Cooner] 10. Erica Lorraine Scheidt loved which Tom Robbins title as a teen? [
Evening Cowgirls Get the Blues
] 11. _______________'s 1st piece of work was a musical extravaganza retelling of
The Little Mermaid
. [Jill Wolfson] 12. Two authors' 1st piece of written work have "tooth/teeth" in part of the title. Name the authors. [Michelle Gagnon, Max Doty] 13. This author has lived in more than 50 homes. (Seriously.) Who is it? [Michael Grant] 14.
The Chocolate War
by Robert Cormier was this author's fave as a teen. [Stephanie Kuehn] 15. Which two authors listed Stephen King as the author of their favorite book as a teeth? Extra credit if you can name each author's favorite King novel. [Kevin Emerson – 
It
, Stacey Jay – 
The Stand
] 16. How old was Lewis Buzbee when he wrote his 1st short story? [15, 
The Dreamer
] 17. Judy Blume was which author's favorite as a teen? Name the most favored title for bonus points. [Corrine Jackson – 
Tiger Eyes
] 18. Daisy Whitney's 1st piece of writing was published in which city's newspaper? Extra credit for the clever title. [Denver Post, cigar ashtray sales] 19. How old was C.J. Omololu when she wrote her 1st book? Name it. [38, 
Armadillo Season
] 20. What epic fantasy was Veronica Rossi's favorite teen read? [
Lord of the Rings
] [/spoiler]
I will talk about the authors I met in the order I met them (but my memory is all over the place so it won't quite be in chronological order nor will I remember everything that was said).
CORINNE JACKSON
She had the cutest purse (it was a Kate Spade typewriter bag)! That was my way of starting a conversation with her. Lol.
KASIE WEST
Kasie West was frickin' amazing. Her favorite Amy Tan book as a teenager was The Joy Luck Club, which I actually haven't read. I don't remember most of the conversation we had since I was completely in awe of her presence and just thought, "oh my god. She's talking to me!" I stuck to her side (because I felt the most comfortable with her) when I wasn't going around to other authors, doing the scavenger hunt. You can say, I naturally gravitated toward her. ;D When I won my first prize, she basically forced me to open it in front of her. ;D (The prize was The Dark Unwinding by Sharon Cameron.) When I was doing the scavenger hunt, she was rooting for me to win prizes and when I did win, Kasie called me over to open the wrapped book in front of her. (You do not know how I squealed in glee when I heard her call my name!) And she agreed to take photo booth pictures with me. Gahhhhhhh. LOVE HER.
KEVIN EMERSON
He could not remember what question was his, which I found amusing. He was looking through the game card and thought that he was one of the two authors for #15. His favorite Stephen King novel was It and The Shining, but settled on It. He talked about how he loved It, and how he kept imagining it like how it was portrayed in the movie, which he didn't like.
STEPHANIE KUEHN
I didn't talk to her very long because I got extremely flustered. I told her that I loved Charm & Strange and didn't really elaborate on why. Before I went up to her, I had planned to say that her book resonates in my head even after I finish and I have to applaud her for that. Oh wells.
CJ OMOLOLU
She started writing her book later than most people. The first book she wrote was called Armadillo Season. It has yet to be published, and I believe it was about a guy who finds out he has a black father and goes to find him. (I'm not entirely sure if I'm remembering that wrong.)
KATHERINE LONGSHORE 
Her first piece of written work was called "The Storm" and she told me that's what the story was about – a storm. Ha! (She wrote it when she was younger, which made me understand why it was called that.)
JILL WOLFSON
I don't remember much. I do remember her friend introduced the two of us to Lewis Buzbee because Jill is a huge fan of his. Oh! I totally need to read or see this "musical extravaganza retelling of The Little Mermaid." How can anybody say no to that?
LEWIS BUZBEE
He was very sweet. He asked me to guess how old he was when he wrote his first short story. I was hesitant because I was expecting there to be a hidden motive behind it so I asked him to give me a hint. (I guess I'm a suspicious person by nature.) There were no hidden motives though, which made me feel silly. He just wanted me to guess a number. :D He was 15 when he wrote his first short story called "The Dreamer." We talked about that short story and my plans in life.
AMY REED
She told me that piece of writing that was published in Fiction Magazine in 2006 was the beginnings of Over You (or maybe it was one of her other books).
ERICA LORRAINE SCHEIDT
She was frickin' amazing. She asked me if I read or knew any of Tom Robbins' work. I had never heard of him. She was in disbelief when I told her that. :D She saw the books I was holding and told me that The Sky Is Everywhere is an incredibly book. Lots of ~feels. (Well, she didn't say that, but that's what I got from what she was saying. ;D) It was so easy to talk to her. I loved how excited she was about every author.
JASON MYERS
I didn't have much of a conversation with him because I'm sure I interrupted his with the person next to him. Whoops.
JANDY NELSON
I got her to sign my book! I've heard so many good things about The Sky Is Everywhere. I told her that I was told I'll cry like a baby reading it, and Jandy said she hoped I'd enjoy it – the book, not the weeping. ;D
DAISY WHITNEY
I had no idea she was a journalist. We laughed about her first writing piece because it was about cigar ashtrays. She had to go to the shops and interview the sellers. I jokily said that business was probably not going too well these days. ;D
VERONICA ROSSI
I was looking for her, but couldn't spot her. (Kasie and Erica were looking forward to her too. Ha.) When I did find her, she was already talking to someone else. I had to come back ten minutes later because I didn't want to interrupt her conversation. I was too nervous to engage in a conversation with her. I just told her that I plan to see her when she comes to Oakland on the 23rd (*cross my fingers*), and that I read Roar and Liv and loved it.
MICHELLE GAGNON
I don't think I said anything to her after I asked her about her question. :P
STACEY JAY
She is such a sweetheart. Her favorite Stephen King novel is The Stand. For #15, she talked about how she was certain that one of the authors was lying about it being their question. She was sure that she was one of the authors for #15. (We solved the mystery below in MICHAEL GRANT's section.)
SEAN BEAUDOIN
I can't remember if it was Stacey Jay (or Michelle Gagnon?) that said, jokily, that Sean couldn't pick a more pretentious book. However, Sean and I both agreed that the name Vonnegut was already pretentious enough.
MICHAEL GRANT
Stacey Jay was around when Michael Grant told me that his question was #15 and that his favorite Stephen King novel was The Stand. Then Stacey said that there's another author, Kevin Emerson, who said that was his question too, and she was sure that somebody was lying. MYSTERY. Kevin Emerson then came by to introduce himself to Michael. What a weird coincidence! She was sure that #15 was her's and Kevin's question, and that Michael must've gotten his question mixed up. And you know what? She was right. Michael's question was #13 – he lived in more than 50 homes. Ha. Michael said that there aren't only two people in the world who considers Stephen King as their favorite. Lots of people like Stephen King, Lord of the Rings, and Harry Potter. I was just amused that everybody was playing detective. :D
CORINA VACCO
When I asked her which question was hers, she took my paper and wrote down her name. She told me that was easier than saying her name out loud because it was quite nosy and she didn't want to hurt people's ear with her voice. Awww. She was so sweet.
MAX DOTY
I basically ran after him to confirm that he is one of the two authors in #12. I didn't have a conversation with him because we were interrupted by announcement for another prize giveaway.
INGRID PAULSON
She loved Pride & Prejudice as a teen. I didn't talk to her much because I believe the prize giveaway announcement interrupted us. I wanted to tell her that I loved my favorite Austen novel was Persuasion. (Give me Anne + Wentworth any day!)
DONNA COONER
She actually wrote in her name for me. One of the woman around her, whose name I unfortunately did not know, went on her phone to try to help me find the answer for #2, but I had to turn in my scavenger hunt game card. :( I was really grateful that they would go to this length (of cheating ;D) to help me complete all the questions.
L. TAM HOLLAND
I, unfortunately, did not talk to her until after I turned in my scavenger hunt game card. It's funny because when I was trying to find her by asking other authors where L. Tam Holland is, they had no idea where she was and decided to help. We only knew that she was blond, and bless Kasie West, she tried to help me find her.
All the authors were really sweet and so much fun. You do not know how much I wanted to hug everybody for rooting for me to win the scavenger prize. When I came back home, I realized that I forgot to get every author I met to sign my Litquake festival guide. Oh wells.
/\\\\/\\\\/\\\\/\\\\/\\\\/\\\\/\
BOOKS
I won these two books – The Dark Unwinding from when I raised my hand to answer what recent Not Your Mother's Book Club event I've been to (which, of course, was the Gayle Forman & Tamara Ireland Stone one) and Matched from being one of the people who completed the scavenger hunt with the correct answers. :D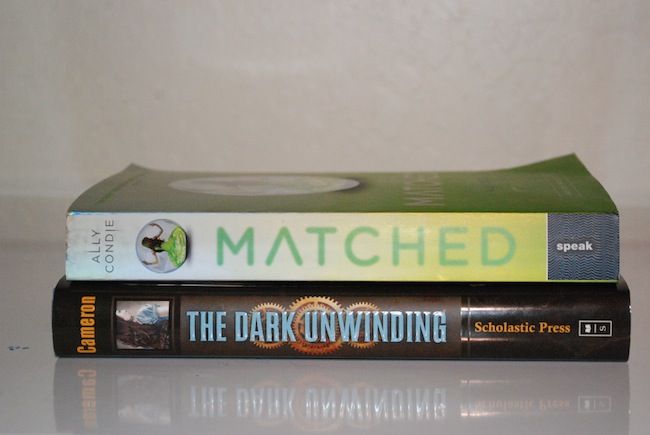 I bought these books to get signed –
Awesome, right? I'm excited to start reading them.
I want to share the love for the authors and for this event! You see that I have extra copies of books, right? Well, you have the chance to win a Teenquake prize pack! You will get a signed copy of Under the Never Sky by Veronica Rossi and a signed copy of The Distance Between Us by Kasie West.
The rules:
This contest is only opened to the US. (Too broke to send it anywhere else.)
The giveaway will run from October 15 to October 31, 2013.
You must be 13 years (with your parent's permission) or older.
You will be disqualified if you pick up entries you haven't done.
If the winner does not respond to my e-mail within 48 hours, I will have to choose another winner.
I am not responsible for any items lost in the mail.