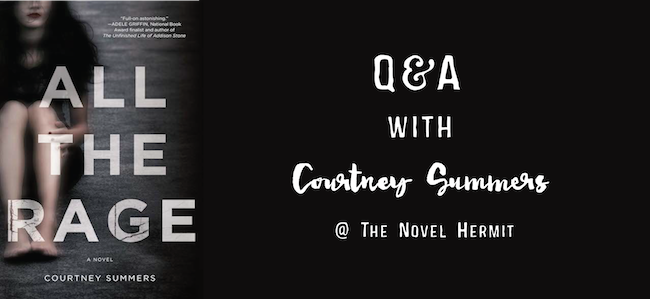 The sheriff's son, Kellan Turner, is not the golden boy everyone thinks he is, and Romy Grey knows that for a fact. Because no one wants to believe a girl from the wrong side of town, the truth about him has cost her everything-friends, family, and her community. Branded a liar and bullied relentlessly by a group of kids she used to hang out with, Romy's only refuge is the diner where she works outside of town. No one knows her name or her past there; she can finally be anonymous. But when a girl with ties to both Romy and Kellan goes missing after a party, and news of him assaulting another girl in a town close by gets out, Romy must decide whether she wants to fight or carry the burden of knowing more girls could get hurt if she doesn't speak up. Nobody believed her the first time-and they certainly won't now-but the cost of her silence might be more than she can bear.

With a shocking conclusion and writing that will absolutely knock you out, All the Rage examines the shame and silence inflicted upon young women in a culture that refuses to protect them.

Amazon · Barnes & Noble · Books-A-Million · IndieBound· Indigo · iTunes · Google Play · Kobo
Today, I have the great pleasure of having the awesome Courtney Summers on my blog for a little Q&A. I nearly jumped out of my seat in excitement when I was asked to partake in this blog tour. (Of course I'll partake!) Although I have yet to read All the Rage, I know that it's a book that I will be reading soon as well as it should be on everybody's radar, so you better add it to your TBR list!
Q&A WITH COURTNEY SUMMERS
All the Rage deals with important, yet tough topics like rape and the victim-blaming culture, were there any scenes that were difficult for you to write—where you had to step back for a moment?
Courtney: All the Rage was an incredibly difficult book to write from start to finish. Rape culture is a tough topic to tackle, and there's a lot of pressure in terms of what you're adding to a larger conversation as an author. Romy is also a character who is in a lot of emotional pain. I worked on this book on and off since 2009/2010.  But from 2012 to 2014, I was pretty much working on it 24/7. I wish I had taken moments to step back. It was very intense.
It's important for people to be informed and reflect on how the world views rapes and its victims. What are other books that deal with similar topics that you'd recommend everybody go read?
Courtney:
What movie would you make a YA book adaptation of?
Courtney: This is a neat question! I bet a YA adaptation of Alien would be pretty cool. I think a teenage Ripley would be as awesome as she is as an adult.
Thanks for having me on your blog!
Courtney Summers lives and writes in Canada, where she divides most of her time between a camera, a piano and a word processing program. She is also the author of What Goes Around, This is Not a Test, Fall for Anything, Some Girls Are, Cracked Up to Be, and Please Remain Calm. 
Website · Twitter · Facebook · Tumblr · Instagram
Guess what! I'll be giving away a copy of All the Rage by Courtney Summers, courtesy of the lovely people at St. Martin's Griffin!
The rules:
This giveaway is opened only to US and Canada residents!
The giveaway will run from April 20 to April 30.
You must be 13 years (with your parent's permission) or older.
You will be disqualified if you pick up entries you haven't done.
If the winner does not respond to my e-mail within 48 hours, I will have to choose another winner.
I are not responsible, nor is St. Martin's Griffin, for any items lost in the mail.
Why do you want to read All the Rage? Have you read any of Courtney Summers's other books?