Uhhh, it's a new year, and I have yet to get back on the reading horse. I did get a couple of review books read, so I guess I can count that as a win! But yet, I am still behind. Will I ever get on the reading train?
For those who do not know, Too Much TBR is a way to help me see which books I really need to read and tackle them. Is it effective? Perhaps. It helps a lot seeing a visual of the books on my TBR pile.
Let's discuss what I read last month, and what I'm reading this month!
I had wanted to read six books in January, and well, I read half of it?
I attempted to read Life in a Fishbowl, but I couldn't get through the first few pages because it made me think of my dad. :( I read the first chapter of Caraval, but put it down because I just wasn't in the mood.
I'm currently reading The Edge of Everything, which feels like I've been doing it forever, and ugh, this book is so slow and just not grabbing my attention.
I also read Demon Volume Two, which I couldn't put down, and Leviathan's Wake (because of The Expanse show).
It's now February, and I'm gonna attempt to get through these six books: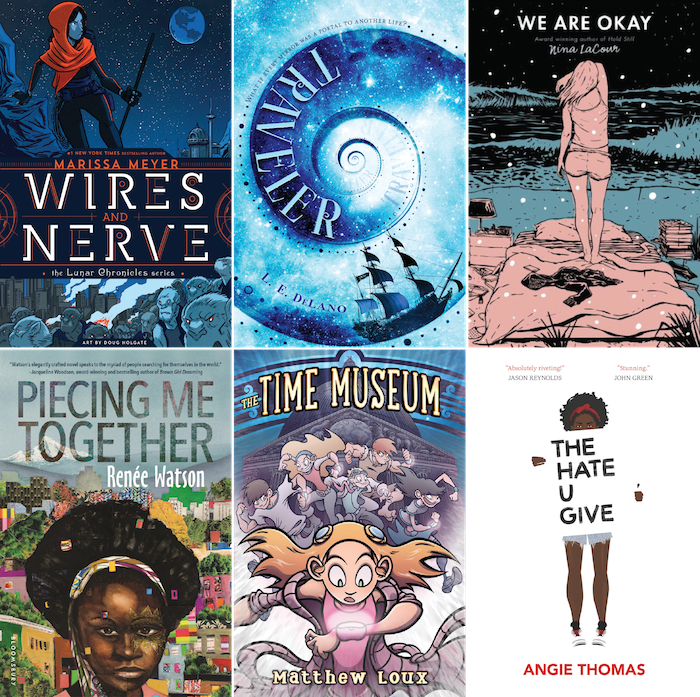 Wires and Nerve! A graphic novel about Iko! Yeeee. I'm so excited. (I really should reread/finish the Lunar Chronicles, but I'm not going to. Ha.)
Traveler: Apprehensive about this book. I'm not a fan of YA romance, but I am a sucker for different realities. Hopefully I somewhat enjoy this.
We Are Okay: Isn't that cover so gorgeous? I adore Nina LaCour's writing. It's always so breathtaking.
Piecing Me Together: I want this book to blow me away, and I know it will.
The Time Museum: Graphic novel about kids time traveling throughout history? YES.
The Hate U Give: I need this book in my life. When it comes out, I'm grabbing it off the shelf.
Note: All these books here do not account for other books that may slip into my TBR list (because mood reading will probably happen) nor of the comics I will be reading. I'm sure I missed other books I want to read this month too, but since I can't remember, it must not be priority, right? Let's hope I make a dent in my TBR books for February!
How was your January? Tell me what's on your February TBR list. Have you read any of the books on my lists? Or are you planning to read them?