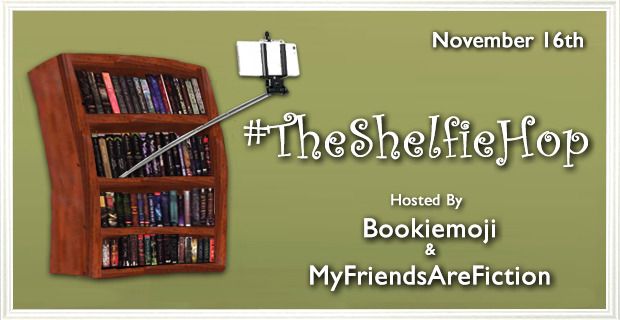 The wonderful Kristen @ My Friends Are Fiction + Crystal @ Bookie Emoji are hosting this awesome hop where people showcase their shelves because who doesn't love looking at people's shelves?
I'm not a fan of my shelves because they're the same color or size, but hey, if they get the job done, it's fine, right? And here are those sturdy shelves.
BLACK IKEA BOOK CASE (left)
It was a high school graduation gift. It's the first book case I ever personally owned.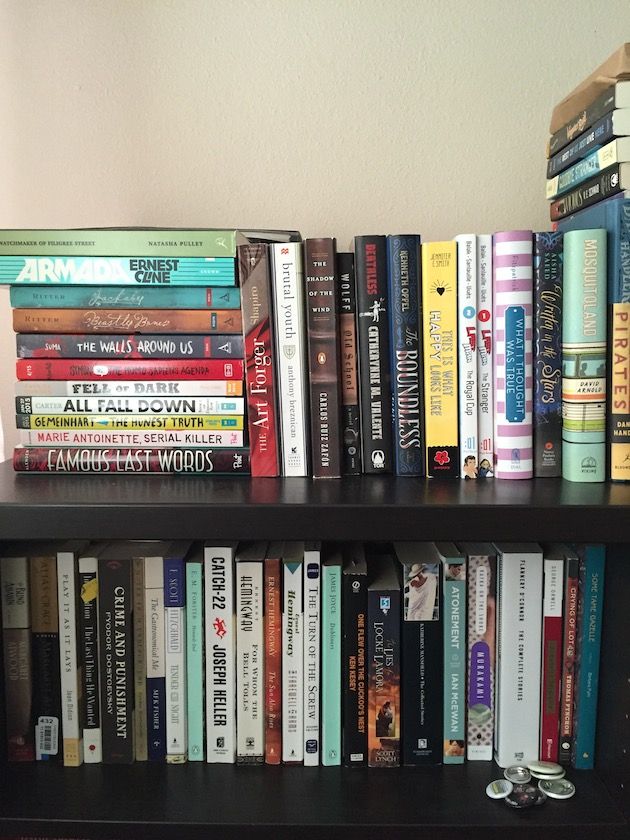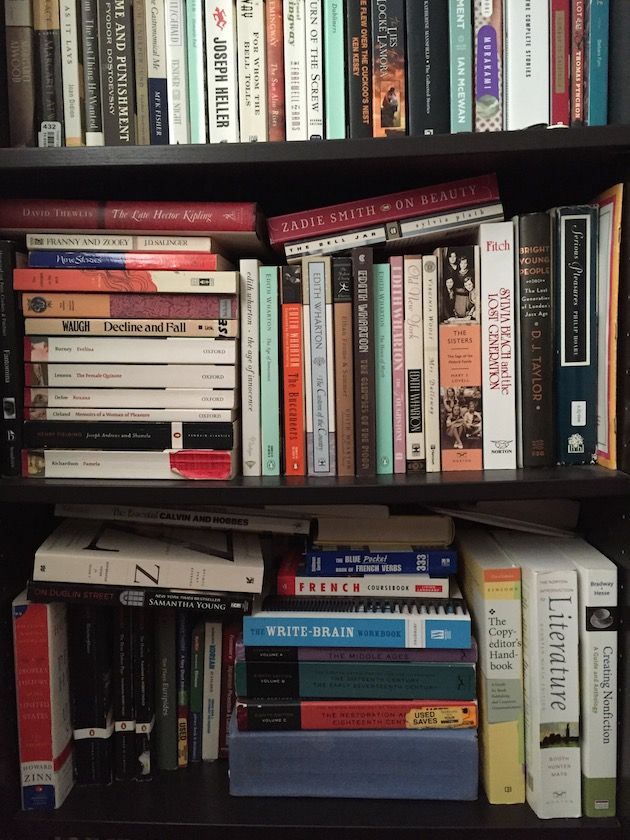 The top shelf is filled with books I had accumulated after I had organized the books. They were my "oh god where do I put this? Well, I have shelf space on top of the book case so that'll do" place.
This bookcase is generally where I store all my general fiction books. The first two shelves have general fiction and classic literature, and I have to admit that most of them are unread. ? The third shelf is where I store my college English books. (I should really get rid of them, but nostalgia factor!) The fourth shelf is where I put my high school yearbook, college literary journals, and my high school photo portfolio. Because I own a lot of books, I store them behind the outward facing ones. It makes me sad that I can't showcase allllll my books, but I gotta utilize space, so behind they go.
LIGHT BROWN BOOK CASE (middle)
This was a hand-me-down that went from my older sister to my little sister (since LS moved into my older sister's bedroom once OS moved out) and then to me (when my LS decided she had no need for a book case and gave it to me).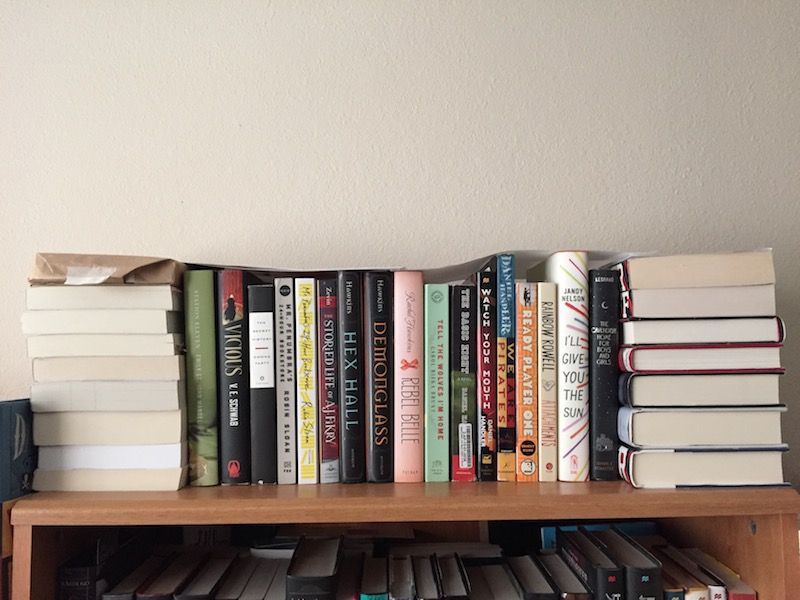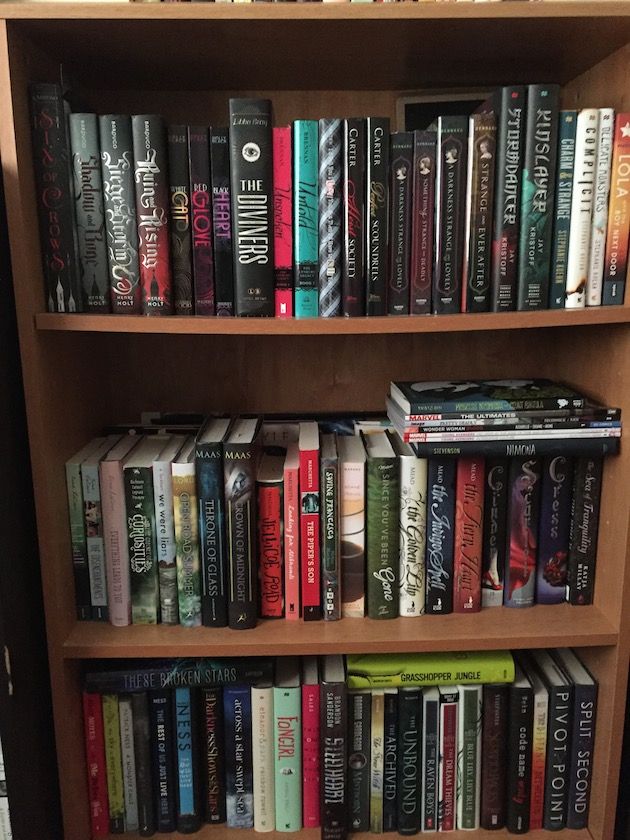 The books on the very top shelf are authors or books I love a lot (you can see Vicious, Mr. Penumbra's 24-Hour Bookstore, Rachel Hawkins, The Basic Eight, I'll Give You the Sun, and The Cavendish Home for Boys and Girls) and also precious and beloved arcs (like Vicious, Winger, Goodbye Stranger). I will need to rearrange this shelf because it pains me that Patrick Ness nor Melina Marchetta are on that shelf.
Everything underneath that shelf are my YA books that are alphabetized by the author's last name. On the last shelf, I have my favorite childhood series' (Harry Potter and A Series of Unfortunate Events) as well as my comic book/graphic novel collection, which is growing bigger and bigger every time I look at it.
BLACK DRESSER (right)
I turned the top part and the little cubby of the dresser into an area where I can store books I am planning to give away, trade, or sell, or haven't decided what to do with them.
BESIDE TABLE
I tend to keep the books I'm reading on my beside table (since I read in bed a lot).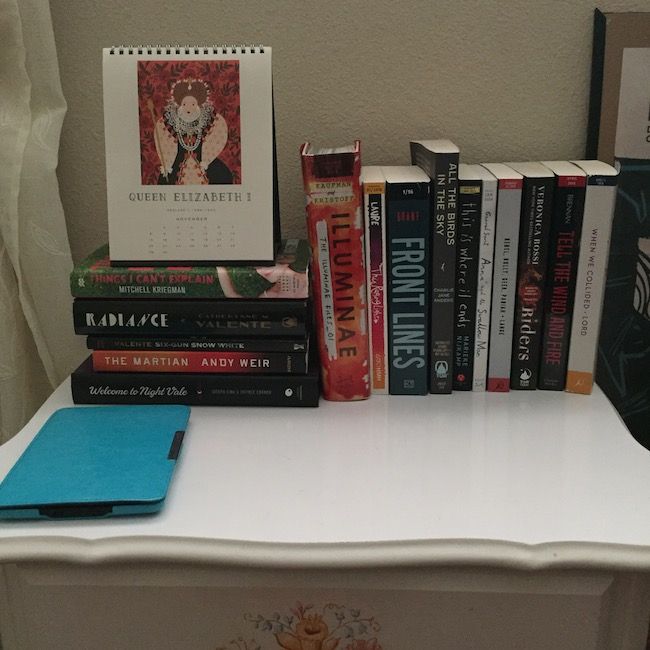 Underneath my desk calendar, the first four books are ones I'm currently reading. I decided to stack the 2016 ARCs I have on the bedside table because I needed a place to put them without confusing it with my other books.
After I took these pictures, I wanted to reorganize my bookshelves and buy a bookcase. I will most likely do the former.
What do you think of my shelves? Do you see any books you love? How do you think I should reorganize my bookshelves?
Check out the shelves of these lovely people!