Hosted by the lovely Octavia at Read.Sleep.Repeat, ARC August is an event that helps readers get their ARC pile down.

The rules are simple:

It may be a physical ARC or and eARC but it MUST be an ARC.
Yes, it can be an ARC of a book that has released as long as it's an ARC.
HAVE FUN WITH THIS! Feeling like you are being "forced" to read is the best way turn a fun event into a yucky obligation.
Have an update post! You can update once a week, every other week or once for the whole darn event. (Octavia does a post for each Saturday in August.) This update can be in the form of a blog or tumblr post, vlog, link to your "ARC August 2015″ shelf or even an Instagram pic!
Yes! I've decided to partake in ARC August.
I have an abundance of ARCs from publishers and ALA that I need to get through, and ARC August will, hopefully, help me tackle them. I'm a bit worried because I'm not great at reading from set TBR lists, being a mood reader and all, but I will try!
It will be either the best thing I do or the absolute worst. We shall find out. ;)
Here are the books I will be tackling in August: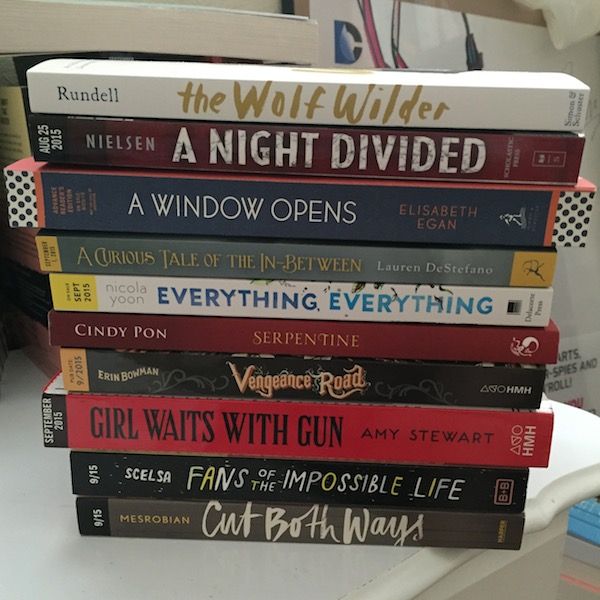 The Wolf Wilder by Katherine Rundell
A Night Divided by Jennifer A. Nielsen
A Window Opens by Elisabeth Egan
A Curious Tale of the In-Between by Lauren DeStefano
Everything Everything by Nicola Yoon
Serpentine by Cindy Pon
Vengeance Road by Erin Bowman
Girls Waits With Gun by Amy Stewart
Fans of The Impossible Life by Kate Scelsa
Cut Both Ways by Carrie Mesrobian
Have you read any books from my ARC August pile? Are you looking forward to any of them?