[quote]Comic Firsts, a feature where I talk about the first issues of comics that I've bought, received, or borrowed. It's all about first impressions, what I like or didn't like about the issue, and whether I would keep reading it beyond the first issue.[/quote]
Shirtless Bear-Fighter is exactly as ridiculous as it sounds. But it's the kind of ridiculous that will have you laughing because of how absurd and weirdly mesmerizing the titular Shirtless Bear Fighter is.
Picture this: people fooling around in a forest, only to be interrupted by an angry bear. Who will rescue this horny couple? A wild, hairy muscular naked man (his genital region tastefully pixelated) strides out of the trees with his fists clenched. He's the hero that the FBI needs. (The hero that we didn't know we needed either.)
Who is this mysterious man with a disdain for clothes and bears? Can he save Major City from angry bears? How can the FBI trust him? He's butt-naked, for God's sake!
Shirtless Bear-Fighter is strangely delightful. After a personal loss, Shirtless turns on the only family he's ever had and known—bears. He's the guy—the hero—to keep these bears in check…y'know with his fists.
Who would've thought a naked wild-man punching bears would be a lot of fun? That's the beauty of the art and writing. The art frames the writing so well that readers will understand why the jokes and puns being made are funny. What makes this comic funny is the way it's presented. The comic gives us scenes of: Shirtless fighting a bear, in which looks like a weird sexual dance—every position he gets the bear into looks like a presentation of different sex positions; the FBI bribing Shirtless with flapjacks and 100% pure maple syrup; and plenty of ridiculous scenes that make you go "this is really happening." The comic and the characters are very serious about Shirtless Bear-Fighter. He's the only one for the job; we, as readers, see how ridiculous that is, and that's why this comic is funny.
This comic will have you snickering. How can you say no to the Shirtless Bear Fighter? Like—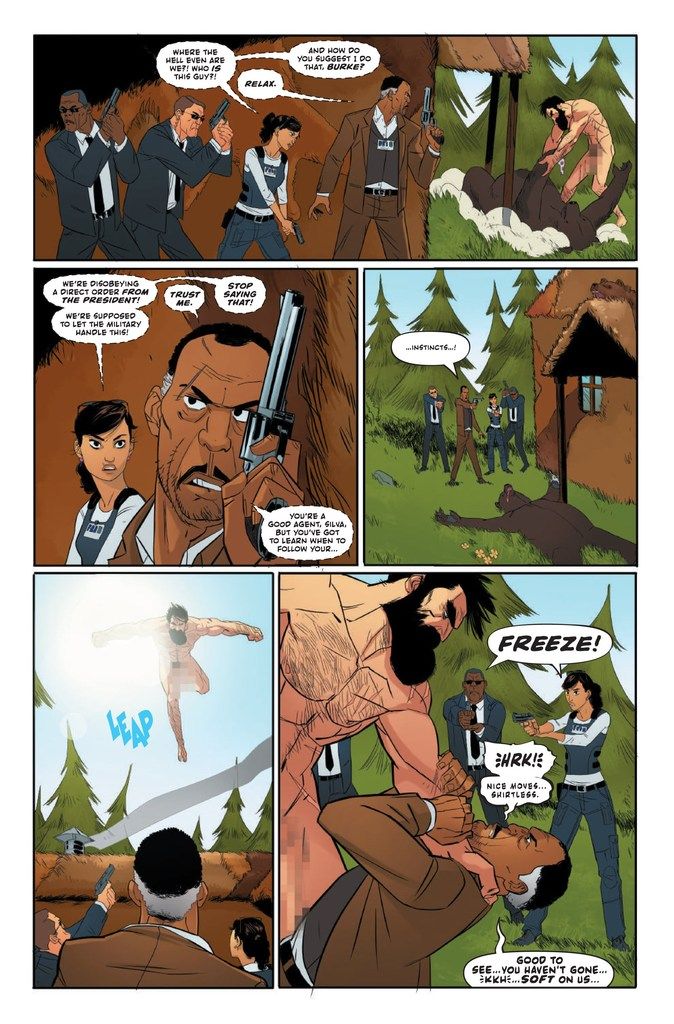 Would I continue reading Shirtless Bear-Fighter? Absolutely.
Synopsis:
[quote]After being betrayed by the bears that raised him, the legendary Shirtless Bear-Fighter wanders the forest he's sworn to protect, fist-fighting bears, eating flapjacks, and being the angriest man the world has ever known! When wild-eyed, super-strong bears attack the citizens of Major City, Shirtless ventures into the human world to do what he does best…PUNCH THOSE BEARS IN THE FACE!
But all is not as it seems. Someone is manipulating Shirtless…and only by confronting the demons of his past can Shirtless hope to save his future!
A heart-filled, hilarious, tall tale for the ages… you don't want to miss SHIRTLESS BEAR-FIGHTER! – Image Comics [/quote] [note note_color="#DDB349″ text_color="#ffffff"]Are you convinced? Check it out on the Image Comics website. Go buy Shirtless Bear-Fighter #1 from your local comic book store when it comes out June 21, or these online retailers: Comixology · Midtown Comics · TFAW.[/note] [note note_color="#BFD1D1″ text_color="#ffffff"]Thank you to Image Comics for sending me this comic for review consideration. This does not affect my opinion of the comic or the content of my review.[/note]
Are you intrigued by Shirtless Bear-Fighter?