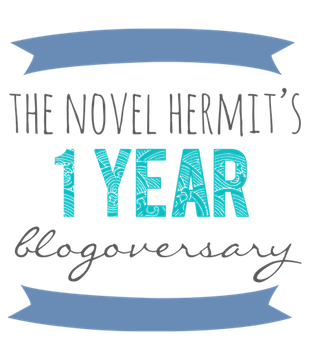 That's right!
THE NOVEL HERMIT CELEBRATES ITS FIRST BLOGOVERSARY! (AKA THE DAY IT WAS BORN!)
YEEEEEEESSSSSSSSS.
I can't believe it's been a year. It feels like I've been blogging less than that (especially since the first six months were pretty lackluster for my blog in terms of post and interacting in the book community). It's pretty amazing I lasted this long talking about books. I was apprehensive about sharing my thoughts about books because I didn't think I'd be able to convey my thoughts and feelings clearly, but I did and it's awesome.
In the beginning, I hadn't put on my blogging cap. I had recently graduated college and was utterly confused on what I wanted to do. I'm no stranger to blogging; I've had a personal blog for a while, but I wanted an outlet where I could talk about books. Creating a book blog made sense. For the first four months, I only did a bunch of memes (mainly Top Ten Tuesday, Waiting on Wednesday, and Stacking the Shelves) with the occasional review. I'm not proud of those times. I just wasn't comfortable doing anything else. I hadn't found my voice and I was feeling distant to the book community. But thank you for Armchair BEA. Discussions really help me open up. I slowly eased myself into a regular schedule and started visiting other blogs, but I feel like the turning point was August. I became more active than I had ever been the previous months. (I essentially traded tumblr for twitter and it was a good choice.) It makes me incredibly happy that I've met incredibly people – authors and bloggers.
I have to give a bunch of shout-outs to fellow bloggers (who I really consider my friends) for making this community frickin' awesome.
Kelly (of Effortlessly Reading) | Christine (of Oh Chrys)
Stacie (of The Shy Book Nerd) | Arial (of In Italics)
Stormy (of Book.Blog.Bake) | Nikki (of The Paper Sea)
Claire (of Bitches With Books) | Nikki (of There Were Books Involved)
You've all been totally awesome to me when I feel like I don't deserve it. Thanks for putting up with my jokes and my squealing about fonts and narwhals. And I have to thank every one of you who tweeted me or commented on my blog. You do not know how much I appreciate your comments. They brighten up my day. Every one of you make this book community more awesome! *hugs all of you*
For me, blogging will forever be an intricate part of my life. It has allowed me to be vocal about my opinions on books and to create surprisingly decent graphics.
Here's to another year of The Novel Hermit! I hope to get to know everybody (and this book community) better! *cheers*
In honor of my first book blogoversary (and my appreciation to fellow bloggers and readers), I am giving away a book of your choice ($20) from my favorite author list!
Diana Peterfreund | Rainbow Rowell | Daniel Handler | Rachel Hawkins
Melina Marchetta | Kasie West | Marissa Meyer | Victoria Schwab
Susan Ee | Brandon Sanderson | Sarah J. Maas | Sarah Rees Brennan

You can decide to get one hardcover book OR two paperbacks as long as it's $20. It can be a pre-order (if you want and are willing to wait until the publishing date).
The rules:
This contest is opened internationally (as long as The Book Depository delivers to you).
The giveaway will run from December 19 to December 31, 2013.
You must be 13 years (with your parent's permission) or older.
You will be disqualified if you pick up entries you haven't done.
If the winner does not respond to my e-mail within 48 hours, I will have to choose another winner.
I am not responsible for any items lost in the mail.
IMPORTANT NOTE: Since my discussion post about annoying comments, I'm quite strict on comments. If I see a comment that's a couple of words and doesn't say anything substantial, that entry will be disqualified. I'd like you to be considerate of my feelings on those annoying comments.
————————————————–
For Arial & Christine —
the ribbon is from "Beragarmont Ornaments" | "The Novel Hermit" – Amatic SC | "1 Year" – Su | "blogoversary" – Callie Hands